Mobile hygiene towers for disinfectant dispensers
Triggered by the COVID-19 pandemic and the associated hygiene rules, we used our time when we had no orders to create a disinfection tower, incl. accessories, that costs way below the usual prices of over €400.
We offer 2 versions with the Tower Delux and Tower Basic.
Because this pandemic has left deep marks in all aspects of life, this elegant tower will be perfect for use in public facilities as well as restaurants, company offices, doctor's offices, etc. even after the pandemic has ended. Your visitors, guests, patients, etc. will thank you for it.
We currently also offer size-adjusted towers for daycare centers and schools.
These towers are described in more detail in the brochure and are now available for immediately purchase, including disinfectant, from BICKEL-TEC in Rheinau-Helmlingen.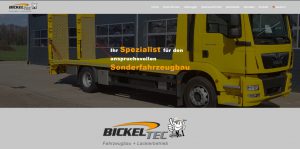 The BICKEL-TEC homepage now has a new look. We want to give our customers and potential customers an improved and more informative insight into our range of services and our company using our new online presence. The website was created using "responsive design" and is thus easy to use on all end user devices (PCs, smartphones, tablets).
We hope that our redesigned site will give both our customers and potential customers all the information that they need.